AISALIN cattery began working with chocolate color in 2006 when we have got McLane's Capuccino, a chocolate point Persian male of McLane cattery (Germany). At the same time OSKAR KONTI cattery purchased a lilac Persian male from Wistaria cattery (Czech Republic).
We are sincerely grateful to Teresa and Alena for our boys! They has become a remarkable daddies for our kittens!
Our dream is to breed a chocolate Exotic with big eyes and sweet disposition. Our new blue tabby exotic boy SYBARIT Voevoda (cattery SYBARIT) and new lilac exotic girl I'm Lilac Desire PANTHERA *CZ (cattery PANTHERA) are got for this purpose.
Thanks a lot to Jury&Irina and Hana for a possibility to work with blood lines of the best cattery of the World!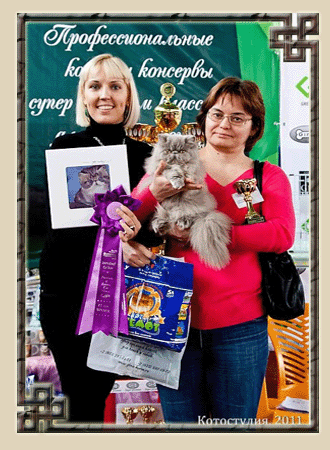 We are looking forward to achieving our goal.